WELCOME TO RISHI PUBLIC SCHOOL, REWARI
RISHI PUBLIC SCHOOL, REWARI is founded by Swaran Devi Foundation, Indraprastha in 2003. Rishi Public School boasts of more than 30000 sq. feet built structure which ensure quality education in the lap of nature. The charming picturesque surroundings provide the perfect atmosphere for young minds to blossom. We at Rishi Public School welcome your child to a new way of learning which is joyous, enthralling and eye-opening. The education system provided in the school aims at making the students intellectually, socially, emotionally and physically strong. It is a co-educational, English medium Public School affiliated to CBSE New Delhi.
Check out all the latest events of The Rishi Public School.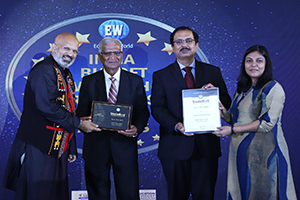 Award
Rishi Public School awarded BEST SCHOOL IN ACADEMICS by Education World in Mumbai. Sh. R.C. Pal Chairman of Rishi School and Dr. Pal Received the award on behalf of Rishi Public School at Mumbai.
View More »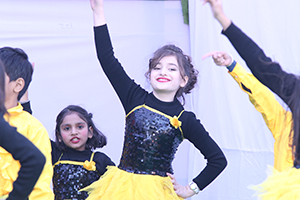 Function
Annual Day forms an integral part of our school activities. It is an occasion of celebration, felicitation, feast and festivity when students present not only their wonderful performances but also receive honours.
View More »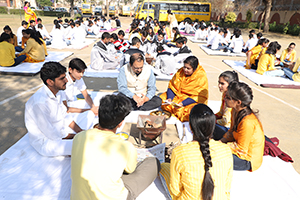 Hawan
"Being a part of the pious hawan yajna one experiences divine contentment and happiness and attains real success and fame" With these remarkable words of Vice Chairman Dr Pal , the new academic session was initiated.
View More »
We are always delighted to hear from prospective parents that are considering our school for their children's education. Please do not hesitate to call us on the phone number above or select from the options below.
You can ask us a question, arrange a school visit (instant confirmation), or make a formal application to join the school. Please click one of the buttons below to make contact with our admissions department.
10 REASONS TO JOIN RISHI PUBLIC SCHOOL
A common theme to each of the core values should be a student-centered view of education. When a decision is made in the school, the first thought should always be: "What's best for the students?" When everyone shares this belief, infighting will lessen and the school can focus on the business of teaching.
In today's highly-connected world, it is more important than ever to establish trust. One of the main contributors to trust is creating a culture of transparency. To most of us, being transparent means you're hiding nothing. You're letting others look through a window into your world, throwing the blinds wide open. 
Our dedicated and passionate team of teachers create short term and long term plans based on 21st Century strategic visioning.  We are 100% committed to the achievement of the students improvement goals. We adapt when unforeseen situations occur and then persist till the important goals are achieved. We never give up!
We always present a positive, pro-active and caring approach. Principal makes the time to speak with students, teachers and parents to know and value them by developing authentic relationships.
Rishi inspiring! We address teachers, students and parents with speeches about noble 21st century educational possibilities, highlighting the school's vision and mission. Our team has an enthusiasm and optimism to work together in creating future directions for the students of our school.
School have safe environments for students physically and emotionally. It is a supportive community where the teachers and students collaborate and focus on achieving better learning.
School have appropriate educational tools and facilities, such as computers, laboratories, libraries, shooting range, archery and hockey. Additionally school offers students (including those who love the performing arts) with opportunities to enrich their educational experience and nurture their talents such as going on school performance tours.
The Rishi Public School campus provides a wonderfully bright, modern environment in which students can study and explore. The facilities include modern, bright classrooms equipped with the latest technology, library and creative areas, computer suite, sports / play areas, plus much more.
We ensure the highest standards are met in all aspects of school life, including academic performance, employment practices, quality of facilities and the promotion of general well-being within the RPS community.
The Rishi Public School aims to provide students with educational experiences that will help them develop a positive approach to learning. By creating a learning environment where children feel at home, they will be more willing to explore new concepts and ideas.
RISHI PUBLIC SCHOOL, REWARI is founded by Swaran Devi Foundation, Indraprastha in 2003. Rishi Pubic School boasts of more than 30000 sq. feet built structure which ensure quality education in the lap of nature.